3Q Total Revenues Recorded New High
Net Profit Doubled QoQ
Mobile Internet Revenue Up 46.2% QoQ
[November 23, 2012, HONG KONG] NetDragon Websoft Inc. ("NetDragon"; Stock Code: 777), a leading developer and operator of online games and mobile internet platforms in China, today announced its unaudited financial results for the third quarter ended September 30, 2012. A conference call and webcast is scheduled for November 23, 2012 at 7:00 pm Hong Kong time (6:00 am ET, November 23) to review the company's financial results and recent business developments.
Third Quarter 2012 Financial and Operational Highlights
Total Revenues* were RMB290.1 million, an increase of 11.7% over the second quarter of 2012 ("QoQ") and an increase of 43.8% over the third quarter of 2011("YoY");
Revenue from Online Games was RMB204.0 million, an increase of 1.5% QoQ and an increase of 11.2% YoY;
Revenue from Mobile Internet* was RMB86.1 million, an increase of 46.2% QoQ and an increase of 370.9% YoY;
Gross profit was RMB252.8 million, an increase of 8.2% QoQ and an increase of 36.9% YoY;
Operating profit was RMB127.0 million, an increase of 43.8% QoQ and an increase of 114.9% YoY;
Profit attributable to Owners of the Company was RMB95.4 million, an increase of 111.8% QoQ and an increase of 91.7% YoY;
Pro Forma Net Profit was RMB117.6 million, an increase of 71.2% QoQ and an increase of 133.4% YoY;
Basic earnings per share("EPS") were RMB18.95 cents, while diluted earnings per share were RMB18.87 cents;
Peak concurrent users ("PCU") for online games were 525,000, a decrease of 9.8% QoQ and a decrease of 7.7% YoY;
Average concurrent users ("ACU") for online games were 281,000, a decrease of 8.5% QoQ and a decrease of 6.3% YoY;
Total users of 91 Assistant were 127 million, an increase of 27.2% QoQ and an increase of 253.4% YoY;
Total users of HiMarket exceeded 48 million, an increase of 57.5% QoQ and an increase of 599.7% YoY.
* The company has revisited the accounting policies of its mobile Internet business, and determined to present 91 mobile platform revenues derived from third party apps and content with cooperation partners on a net basis instead of gross basis. Management believes this will result in more relevant information about the core financial and operational performance of the mobile internet segment. Restated revenue figures net of cooperation fee for prior reporting periods are provided below
Mr. Liu Dejian, Chairman and Executive Director of NetDragon, commented "In the third quarter of 2012, NetDragon maintained stability in online games and robust growth in mobile internet business. Total revenues hit a new high, growing 11.7% quarter-over-quarter to RMB290.1 million; net profit grew 111.8% quarter-over-quarter. "
"Our revenue from online games increased approximately 1.5% quarter-over-quarter, aided by release of an expansion pack for Eudemons Online in September. As the traditional online games market matures, we will continue to support our flagship titles but shift our emphasis towards mobile and web games production. We believe that the increasingly enriched product portfolio will help our company maintain solid growth in online games going forward. "
"Our mobile internet business maintained its industry-leading position, increasing its revenue by 46.2% quarter-over-quarter. After focusing primarily on user acquisition since our mobile platform"s inception in 2008, we now see our business entering a period of fast-growing monetization. Moreover, we are excited about our leadership role in the mobile internet world, and wholeheartedly accept the challenges and opportunities that lie ahead in fashioning a healthy and dynamic win-win mobile internet ecosystem in China and beyond."
Third Quarter 2012 Business Highlights
Mobile Internet
"91 Assistant", NetDragon's applications distribution platform for all mainstream operating systems, reached 127 million total users. Total users for "HiMarket", NetDragon's Android applications distribution platform, exceeded 48 million.
Total apps and content exceeded 700,000 and aggregate downloads surpassed 9.5 billion, which ranks NetDragon as China"s largest mobile applications distribution platform.
91 Open Mobile Platform launched more than 300 mobile games, with total registered users exceeding 9 million.
91 DeNA, the joint venture between 91 Mobile and Japan's largest mobile social gaming platform operator DeNA Co., Ltd., launched its first self-developed game "Legend of Cavalry" and localized titles including "Fantasica", "Emblem of the Gods" and "Rites of Delta".
Online Games
Eudemons Online"s new Chinese EP was officially launched.
Disney Fantasy Online"s new EPs were launched in August and September 2012, respectively.
The Arabic version of "DDTank"(弹弹堂), for which NetDragon serves as an agent, officially launched its open beta testing on September 20.
Recent Developments and Business Outlook
Mobile Internet
91 Limited and China's leading TMT social media DoNews jointly held "Symposium on Trend of Mobile applications on Android Platform & 2012 First China Android Business Summit", aiming to build an Android ecosystem in China.
NetDragon launched its quarterly report titled "Trend of Mobile Applications on 91 Mobile Internet" in a move to provide macro data that assists mobile developers and advertisers.
Online Games
New expansion packs for "Heroes of Might and Magic Online" and "Tou Ming Zhuang Online" are scheduled for the fourth quarter of 2012.
NetDragon"s 2.5D MMORPG "Crazy Tribes" set in an ancient era underwent its closed beta testing in September 2012 and is scheduled for its first open beta testing in November 2012.
Others
As of September 30, 2012, "91 Application Center for Children" exceeded 35 million totaled aggregate downloads, on which over 4000 applications are available for kids created by developers both in and outside of China. Android version of the Center will be introduced this year.
Financial Highlights: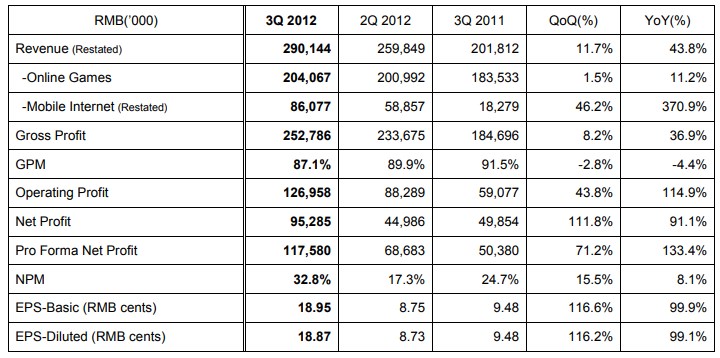 * Restated Revenue Figures

Metrics
Online Games

Pro Forma Financial Measures
To supplement the consolidated results prepared in accordance with Hong Kong Financial Reporting Standards, certain pro forma financial measures, namely Pro Forma Net Profit, have been presented in this press release. These unaudited pro forma financial measures should be considered in addition to, not as a substitute for, measures of the Group's financial performance prepared in accordance with HKFRS. In addition, these pro forma financial measures may be
defined differently from similar terms used by other companies.
Management believes that the pro forma financial measures provide investors with useful supplementary information to assess the performance of the Group's core operations by excluding certain non-cash items, namely valuation loss on derivative financial instruments and finance costs, on a non-tax adjusted basis, both items associated with convertible preferred shares and promissory notes issued by a subsidiary.
Management Conference Call
NetDragon will host a management conference call and webcast to review its financial results for the third quarter ended September 30, 2012 on Friday, November 23, 2012 Hong Kong time.
Details of the live conference call are as follows:
Time: 7:00 PM Beijing / Hong Kong Time / 6:00 AM Eastern Standard Time, November 23, 2012
International Toll +65-6723-9381
US Toll Free +1-866-519-4004
Hong Kong Toll Free 800-930-346
China Toll Free (for fixed line users) 800-819-0121
China Toll Free (for mobile users) 400-620-8038
Passcode NetDragon
Replay service is available from 10:00 PM November 23 to 08:59 PM December 1, 2012 HKT. Below are the replay numbers for different regions. International Toll: 61-2-8199-0299; US Toll Free: 1-855-4525-696; Replay passcode: 68454378. A live and archived webcast of the conference call will be available on the Investor Relations section of NetDragon"s website at http://ir.netdragon.com/investor/ir_events.shtml. Participants in the live webcast should visit the aforementioned website 10 minutes prior to the call, then click on the icon for "3Q 2012 Results Conference Call" and follow the registration instructions.
About NetDragon
NetDragon Websoft Inc. (HKSE: 0777) is a leading innovator and creative force in China's online gaming and mobile internet industries. Established in 1999, we are a vertically integrated developer & operator of MMORPGs and a cutting-edge R&D powerhouse. We launched our first self-made online game Monster & Me in 2002, followed by multiple titles including Eudemons Online, Conquer Online and Heroes of Might & Magic Online. We are also China's pioneer in overseas expansion, directly operating titles in overseas markets since 2003 in English, Spanish, Arabic and other languages. In the mobile Internet industry, we provide China"s leading marketplace for smartphone users, offering applications and content for the most popular mobile operating systems. NetDragon offers many well-known mobile Internet products and services, including sj.91.com, www.hiapk.com, 91 Assistant, HiMarket, 91 Panda Reader and 91 Panda Home.
For investor enquiries, please contact:
NetDragon Websoft Holdings Limited
Ms. Maggie Zhou
Senior Director of Investor Relations
Tel.: +852 2850 7266/ +86 591 8754 3120
Email: maggie@nd.com.cn; ndir@nd.com.cn
Website: www.nd.com.cn/ir