Overview
We continuously recruit, grow, engage, and retain the very best talent to realize Promethean's Mission Statement - Transform the way the world learns and collaborates. Our Human Capital philosophy is "Empower and inspire managers & employees to engage, learn, grow and deliver exceptional results". This guides us to create an environment within which talent can continuously innovate and deliver differentiated solutions for teachers, learners and collaborators.
Talent Acquisition
We strive to attract and recruit the very best talent globally to ensure sustainable growth. We have a highly attractive employee value proposition which includes competitive compensation, performance related bonuses, leading-edge benefit programs that holistically support employees and their families, individual and team recognition programs, learning and career development, and investing significantly in people management training to ensure employees feel fully engaged and can contribute to our future success.
We hire to meet the needs of the role and function, both now and the future. But we also hire to fit our culture. Our values act as the best guide for what is right for our culture and this is best demonstrated by our diversity, equity and inclusion value "Be Discrimination Free". Our commitment to diversity is reflected in our employee representation: 46% of employees and 42% of people managers are female.
Our hybrid work model enables us to provide flexible working scenarios to employees to meet their needs whether that be preference to be office-based worker, home-based or a blend of the two.
Value & Culture
We believe that how we work is as important as what we work on. How we work is embodied in 8 Promethean Values: Act like Owners, Choose Speed & Action, Fixate on Customers & Partners, Continuous Improvement & Growth, Debate and then Commit, Build Trust & Integrity, Be Discrimination Free, and Design with Intent.
Compensation & Recognition
Compensation

Promethean's Compensation Committee believes our compensation program should reward the actions and behaviors that build and support our long-term vision and strategy, while also rewarding for the achievement of short-term performance that enables success through the delivery of the values informed by our Company strategy.

Promethean partners with 3rd party compensation consultants annually to review market data. We review and assess data in the context of roles and functions for the locations we operate in globally. Through these partnerships we can ensure to maintain a competitive compensation posture to recruit talent. This external benchmarking is complemented by internal performance levers which enable us to recognize and reward superior performance through short and long-term incentives that aids talent retention. These performance levers recognize behaviors that demonstrate our Values and outcomes that accelerate our business goals.
Recognition

We have a rich set of recognition efforts which reinforce aspects of our culture we want to celebrate. We use a holistic recognition framework: You-Earned-It (YEI), which allows us to recognize team and individual achievements focused on project and business outcomes, demonstration of Values, Wellness and Tenure milestones. YEI allows employees to earn points which accrue and are redeemable against a catalogue of awards. As a technology innovator we are increasing our focus on the importance of innovation and are broadening this program to include specific recognition for filing of patents. These programs ensure we establish a clear acknowledgement of the effort, behaviors, and outcomes that further our business both short and long-term.
Benefits, Health & Wellness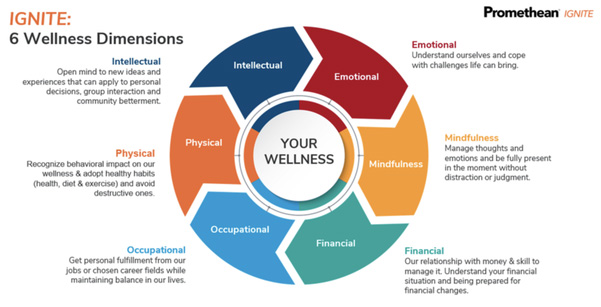 To be successful, we must drive a balanced Global Total Rewards strategy that aligns with business goals, motivates others, controls costs, and demonstrates a return on program investments and education. Promethean cares about the health and well-being of its employees and is dedicated to providing a comprehensive and competitive benefits package to its employees. Our business is successful because of our dedicated employees, and we are proud of our authentic and talented people.
In 2021, Promethean expanded resources to all employees around the globe by launching IGNITE, Promethean's first global wellness program that focuses on 6 dimensions of wellness. Ignite supports more than 550 employees across 23 countries and offers a more holistic, personalized, and customizable approach to living a healthy lifestyle.
Learning & Development
Employee Development

Investment in learning and development is a Win-Win for employees and our business. Employees have an opportunity to learn, grow and enrich their careers. And Promethean retains exceptional talent and institutional knowledge while accelerating our ability to achieve business goals.

Employees own and drive their development. Promethean aims to unleash their potential through programs, resources, tools and support and make all these readily accessible while ensuring people managers provide coaching and support.

Learning@Promethean is a blended-learning solution with dedicated resources which includes online courses, resources, targeted learning programs, proposed learning paths linked to critical focus areas and Values, and online learning communities where employees can share and learn together. Our priorities:

Provide employees with the tools and resources to learn how, where, and when they choose.

Enable employees to take continuous ownership for their learning.

Build People Manager capability to provide direction, feedback, and continually grow employees.

Use employee feedback to prioritize and focus our learning efforts even further.

Employees have access to 16,000 courses across Business, personal development, technology and creative through LinkedIn Learning, which they can access when and how best suits their learning needs. They can get industry-recognized certifications by earning continuing education units (CEUs) and use LinkedIn learning to create individual learning plans for specific areas of interest. Since Learning@Promethean was launched in early 2021, employees have completed 20,544 learning videos and 980 learning programs, with top choices being Productivity, Effective communications, and Diversity & Inclusion.

Learning@Promethean is a dynamic resource set with targeted tools, resources and guides continuously updated on internal sites for ease of access and relevance.
Global compliance education

Compliance training is key to ensuring our employees are knowledgeable about the company policies, regulations and legal requirements that apply to their day-to-day responsibilities. We provide a targeted compliance training program for all employees and managers covering:

Preventing Harassment in the Global Workplace.

Code of Ethics.

Global Cybersecurity program.

Unconscious Bias program to promote workplace Diversity.

EU General data protection regulation (GDPR).

Anti-Money laundering program (Finance).
Employee Engagement
At Promethean we believe positive and active employee engagement is fundamental to our success. We maintain employee handbooks for our global employees that outline relevant policies, benefits, and resources which act as a clear guide on what we expect in terms of behaviors and actions.
We create active channels of 2-way communications with employees at both a company and local team level to ensure we gather appropriate feedback to continuously evolve our culture and sustain a healthy and productive work environment. These include:
Managers are expected to hold regular 1-1, team and group level meetings to promote alignment and open idea generation for improvements.
Executive team host regular all-employee meetings to discuss business progress, highlight specific achievements and recognize employees. These sessions include an open Q&A where employees are invited to ask questions or provide suggestions on topics which matter to them.
Executive team also do Vlog's on a variety of topics to local teams or company-wide.
We have an "Open Door" policy – where employees are actively encouraged to share suggestions, concerns or feedback with their manager, HR, or any member of our leadership team.
Regular employee surveys to gather feedback and ideas on how to improve the workplace and employee experience.
Example: 2020 all-employee survey was focused on asking employees for their feedback on the effectiveness of people management (93% response rate). This feedback defined the focus and investment in Learning@Promethean that was launched in 2021.
Where there are behavioral or performance-based concerns, or alleged policy violations we manage each instance with urgency, respect, and appropriate confidentiality to ensure a consistent, equitable and safe environment for all employees. We have clear, published processes to deal with instances of Grievance, Whistleblowing, Appeals and Ethics Hotline – to ensure employees have suitable avenues to channel concerns and be assured those are managed appropriately.
Diversity & Inclusion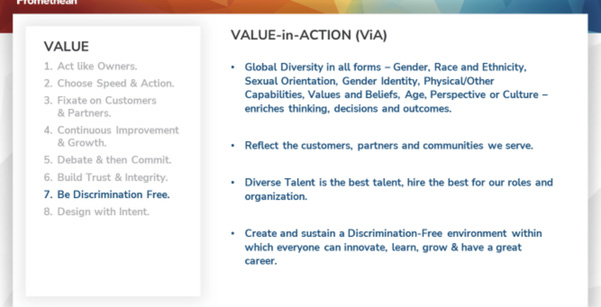 Diversity, Equity and Inclusion (DE&I) is critical at Promethean and is embodied in our Value "Be Discrimination Free".
By striving for a Discrimination-Free environment, where every employee takes active ownership, we ensure to recruit, engage, grow, and promote the most diverse talent. By ensuring diverse teams we create the most diverse perspective in innovation, idea generation and decision making. This talent reflects our customers, partners and the communities within which we operate and ensures we meet customer and partner needs.
Promethean's Male/Female employee population is 54% Male/46% Female and among people managers the representation is 59% Male/41% Female.
Our actions to sustainable grow focus on DE&I include:
Specific investment to source and recruit talent through Diverse candidate sources
Ensuring we sustain equitable pay across under-represented groups by systemically reviewing compensation across key groups.
Compulsory Unconscious Bias training for all employees
Employee Inclusion Groups (EIGs) – employees gather with an executive sponsor to explore how we can further recruit, engage and celebrate 1 of 4 groups: Gender/Ethnicity/LGBTQ+/Disability