On October 13, 2020, NetDragon donated a set of One-Stop Learning platform to the Diqing Tibetan Autonomous Prefecture in Yunnan Province in the "Yunnan Diqing Education Poverty Alleviation Donation Signing Ceremony" hosted by the Department of Science and Technology of the Ministry of Education. The set of One-Stop Learning platform, worth RMB 2.8 million, is equipped with a full lesson preparation and delivery system and millions of high-quality teaching and quiz resources covering all K12 subjects. The Education and Sports Bureau of Diqing plans to onboard all teachers and students in the prefecture to the platform by the end of 2020 and help alleviate poverty through education. The ceremony was attended by Li Nan, deputy director of the Department of Science and Technology of the Ministry of Education, together with other local officials.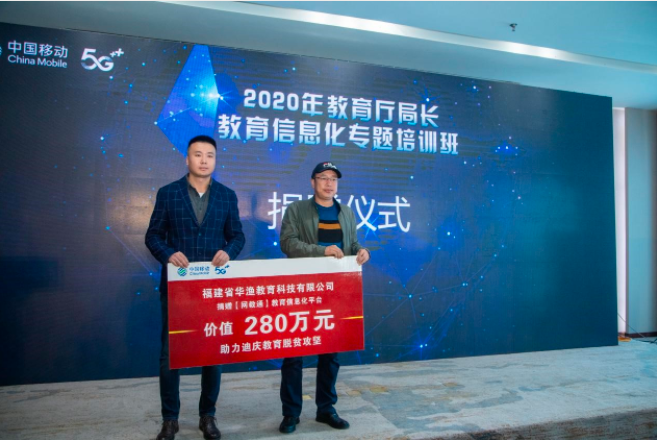 △NetDragon donates RMB 2.8m worth of One-Stop Learning Platform to Diqing, Yunnan
△Yunnan Diqing Education Poverty Alleviation Donation Signing Ceremony
As a major player in "Internet + education", NetDragon continues to leverage information technology to enhance classroom experience and help upgrade education. The One-Stop Learning platform donated to Diqing is an important integrated education information system developed by NetDragon. It supports online lesson delivery, and is equipped with comprehensive functions such as online homework, online exams, parent-school instant communications, online teaching and research, and online educational administration management. In the future, teachers in Diqing could efficiently complete most of their daily teaching work through the platform, improve classroom teaching efficiency and improve teaching quality.
Dr. Xiong Li, CEO of NetDragon, said: "Poverty alleviation through education should not only help children from underprivileged families afford going to schools, but also improve the operating condition for run schools in deprived areas." Diqing Prefecture is the only Tibetan autonomous prefecture in Yunnan, and is one of the deeply impoverished areas in the "Three Districts and Three States". The donation of NetDragon will greatly enhance the level of education informatization and promote education reform in Diqing, thereby laying a good foundation for the further development of local education, tackling intergenerational poverty and promoting fair access to educational resources, Xiong added.
In recent years, the rapid development of the internet has provided a broader space for poverty alleviation through education. Online education, which combines high-quality educational resources and technology, is becoming an important driving force in helping remote areas to tackle poverty and promote equal access to educational resources across the country. NetDragon has also been concerned about the issues of equal and fair access to educational resources, and has been actively involved in education philanthropy. In order to deliver high-quality educational resources to more regions, since 2015, NetDragon has made similar donations to Fuquan City in Guizhou Province, Gannan Tibetan Autonomous Prefecture in Gansu Province and Chuxiong Prefecture in Yunnan Province. All these will help improve the informatization level of local primary and secondary schools, ensure the steady development of compulsory education, and enable students in impoverished areas to receive better education. Netdragon has always been concerned about students in rural and remote areas, and taken actions to fulfill social responsibility.
In the future, NetDragon will continue to devote itself to the development of public welfare undertakings to provide children in remote and rural areas with a better learning platform. While expanding the coverage of its education projects, the Company will use advanced technologies such as big data to help schools build a digital and personalized education system. We believe these actions will contribute to the inclusive education across China.