[25 November 2009, Hong Kong] NetDragon Websoft Inc. ("NetDragon", with its subsidiaries collectively the "Group"; Stock Code: 777), a leading online game developer and operator in China, today announced its unaudited consolidated financial results for the three months and nine months ended September 30, 2009.
Third Quarter 2009 Business Highlights
Launched "Gold Edition: Heroes of Might and Magic Online".
Licensed "Eudemons Online" and "Tou Ming Zhuang Online" in Vietnam.
Concluded the final round of closed beta testing for "Tian Yuan" and initiated open beta testing of "Disney Fantasy Online".
Released the Expansion Pack (EP) of "Conquer Online" named "Raiding Clans" in Chinese, English, French and Spanish.
"Panda Home", a self-developed mobile phone application, won the "Best Home Replacement App" award at the first Android Network Awards.
Launched the 5th Chinese EP for "Eudemons Online", titled "Demon Rising".
Launched open beta testing for the Arabic version of "Conquer Online" in the MENA markets, marking the first-ever large-scale Chinese online game successfully introduced in said area.
Licensed "Zero Online" in Japan and "Way of the Five" in Taiwan, Hong Kong and Macau.
Recognized as the "Most Valuable Enterprise in China's Online Game Industry over the Past Ten Years" at the Ten-Year China Online Game Industry Award Ceremony.
The Group celebrated its 10th anniversary on 1 September 2009.
Recent Developments
Received the "Best Q-version Online Game" award for "Way of the Five" won at the 2009 ChinaJoy Golden Plume Awards Grand Ceremony in October 2009.
Conducted the first close beta testing of "Dungeon Keeper Online" in October 2009.
Licensed its flagship game "Eudemons Online" to Nival Group, for Russia and the CIS region in October 2009.
Recognized by Fortune Magazine as one of the "2009 Outstanding Employers – the Best Companies to Work for in China.
Chairman's Statement
Mr. Liu Dejian, Chairman and Executive Director of NetDragon, commented: "As one of the leading innovators in the rapidly evolving interactive media industry, we continue to execute upon our strategy of strengthening core game development and operating capabilities in order to tap market opportunities both in the PRC and abroad. With an R&D force of nearly 2,000, we have built our "engine" for future growth in online gaming, mobile applications, digital platforms and multimedia initiatives.
Mr. Liu continued: "With increasing output of proprietary products from our R&D engine, we have been able to bolster our pioneering approach of direct game operations in multiple geographies while also expanding our network of publishing partners around the world through outbound licensing. We are quite happy with our progress in attracting gamers in both emerging and developed markets, and we shall redouble our efforts to provide players worldwide with excellent interactive entertainment experiences for years to come."
Mr. Liu concluded: "While our capacity expansion in the past 2 years has elevated our fixed cost structure, we remain a firm believer in the innovative practices and the productivity of our human resources. We expect to reap the rewards from our prudent investment in the future, and as our Group headcount remains flat sequentially, we believe that margins will recover in due course. "
Business Outlook
Launch of "Tian Yuan" and "Disney Fantasy Online" expected by yearend 2009.
Launch of English version of "Eudemons Online" EP "Demon Rising" expected in December, 2009.
Games in the pipeline include "CJ7 Online" and "Dungeon Keeper Online" in 2010, and a new version of "Ultima Online" in 2011.
Enhance our proprietary technological platform and produce a greater proportion of high-quality 3D games to further enrich our game portfolio.
Upgrade our game and product development capability in a prudent and selective manner.
Maintain our focus on the in-game user experience and the timely launch of EPs, to extend the lifecycle of our existing games.
Continue to explore opportunities in mobile software applications, as many of the Group's mobile apps rank among the most popular mobile products in China. This business endeavor is an integral part of the Groups' multimedia strategy.
Management Conference Call
NetDragon will host a management conference call and webcast to review its results and recent developments, at 8:00 pm Hong Kong Time 25 November 2009, which corresponds to 7:00am of 25 November Eastern Standard Time.
Dial-in details for the live conference call are as follows:
Dial in numbers:
International Toll +1 617 786 2963
US Toll Free +1 800 901 5241
Hong Kong Toll Free +800 96 3844
South China Toll Free 10 800 130 0399
North China Toll Free 10 800 152 1490
Passcode: 63545413
Replay service is available from November 25 to December 2, 2009. Below are the replay numbers for different regions. International Toll: +1 617 801 6888; US Toll Free: +1 888 286 8010; Replay passcode: 54422741. A live and archived webcast of the conference call will be available on the Investor Relations section of NetDragon's website at http://ir.netdragon.us/investor/ir_events.shtml. Participants in the live webcast should visit the aforementioned website 10 minutes prior to the call, then click on the icon for "3Q 2009 Results Investor Conference Call" and follow the registration instructions.
About NetDragon
NetDragon Websoft Inc. is a leading innovator and creative force in China's online gaming industry. Established in 1999, NetDragon has been operating and developing a broad range of MMORPGs since launching its first self-made title Monster & Me in 2002. In addition, NetDragon is China's pioneer in overseas expansion, having directly operated its titles in overseas markets since 2004 in English, French, Spanish and other foreign languages.
The Group's game portfolio comprises a range of massively multiplayer online games that cater to various types of players and gaming preferences. Current offerings include the games Way of the Five, Eudemons Online, Conquer Online, Zero Online, and Heroes of Might & Magic Online. The Group also has several games currently in development, including Tian Yuan, Disney Fantasy Online, CJ7 Online, Dungeon Keeper Online and a new version of Ultima Online.
For further information please contact:
NetDragon Websoft Inc.
Ms. Maggie Zhou (Investor Relations Department)
Tel:   +86 591 87543120
Email:  ir@nd.com.hk
maggie@nd.com.cn
IR website: www.nd.com.cn/ir
Financial Highlights (unaudited)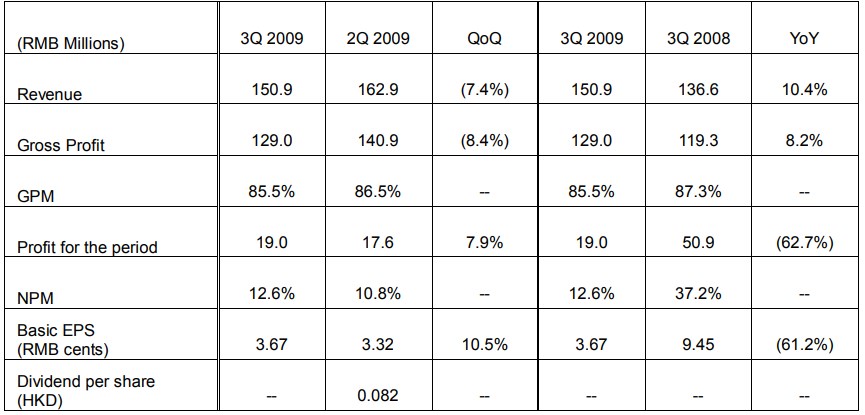 Metrics

Note: Online games include Conquer Online, Eudemons Online, Zero Online, Tou Ming Zhuang Online, Heroes of Might and Magic Online, Way of the Five and other games.